Monthly Downloads: 0
Programming language: JavaScript
License: Mozilla Public License 2.0
Tags
:
Chat
Xmpp
Webchat
Chatrooms
Messaging
Jabber
Converse.js alternatives and similar software solutions
Based on the "XMPP Web Clients" category.
Alternatively, view Converse.js alternatives based on common mentions on social networks and blogs.
Managing outdated pull requests is time-consuming. Mergify's Merge Queue automates your pull request management & merging. It's fully integrated to GitHub & coordinated with any CI. Start focusing on code. Try Mergify for free.
* Code Quality Rankings and insights are calculated and provided by Lumnify.
They vary from L1 to L5 with "L5" being the highest.
Do you think we are missing an alternative of Converse.js or a related project?

Add another 'XMPP Web Clients' Software solution
README
Converse is a web based XMPP/Jabber chat client.
You can either use it as a webchat app, or you can integrate it into your own website.
It's 100% client-side JavaScript, HTML and CSS and the only backend required is a modern XMPP server.
Please support this project via Patreon or Liberapay
Demo
Converse is hosted and can be used at https://conversejs.org.
A demo showing anonymous login is available at https://conversejs.org/demo/anonymous.html and a demo which shows how you can embed a single chat room into a page is avialable at https://conversejs.org/demo/embedded.html.
Documentation
The developer/integrator documentation can be found at https://conversejs.org/docs/html.
You'll probably want to begin with the quickstart guide, which shows you how to use the CDN (content delivery network) to quickly get a demo up and running.
Converse modes
Overlay
In overlay mode, Converse appears overlayed chats on top of the website.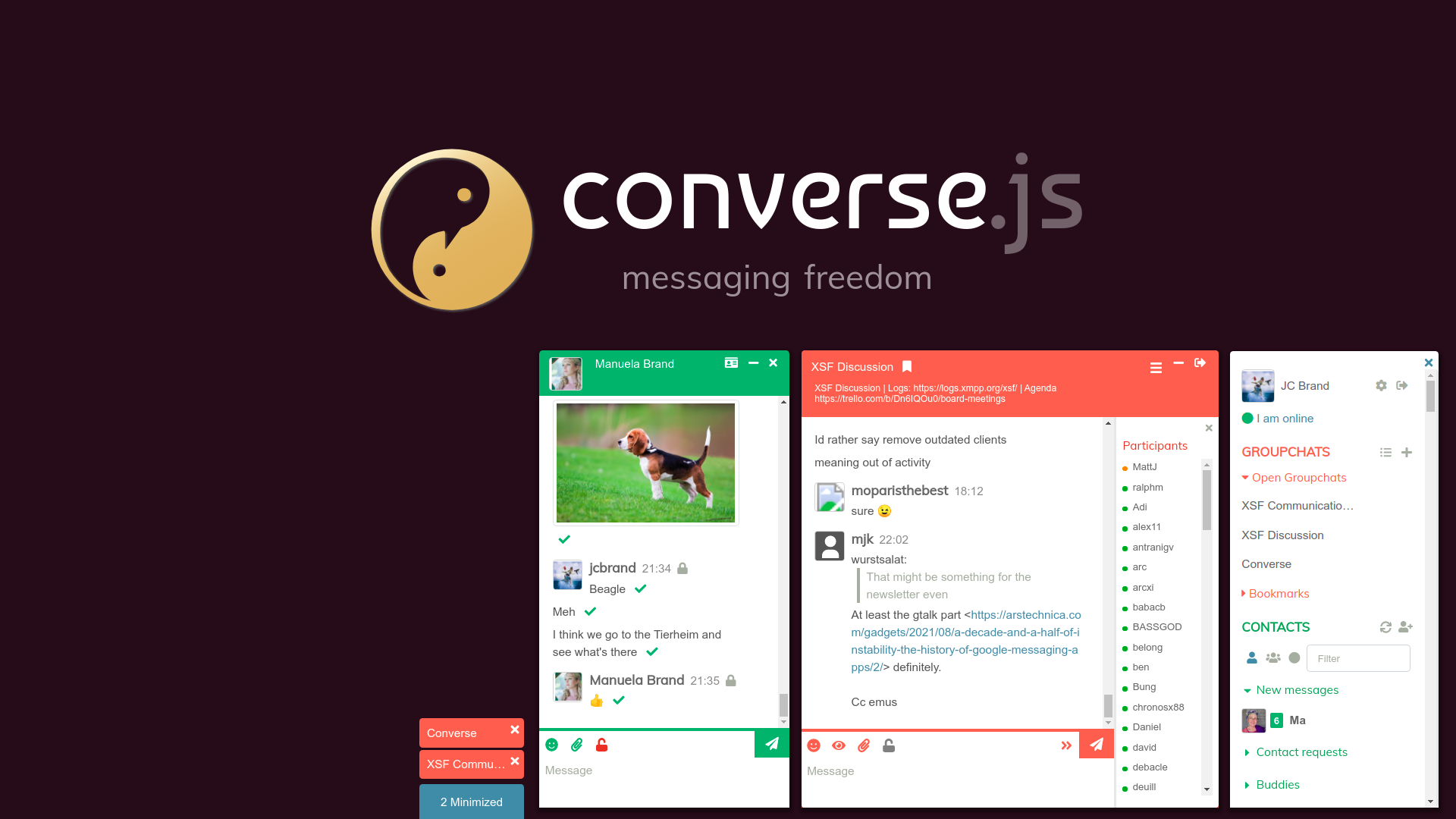 Fullpage
In fullpage mode, Converse behaves like a single-page app that covers the whole browser viewport.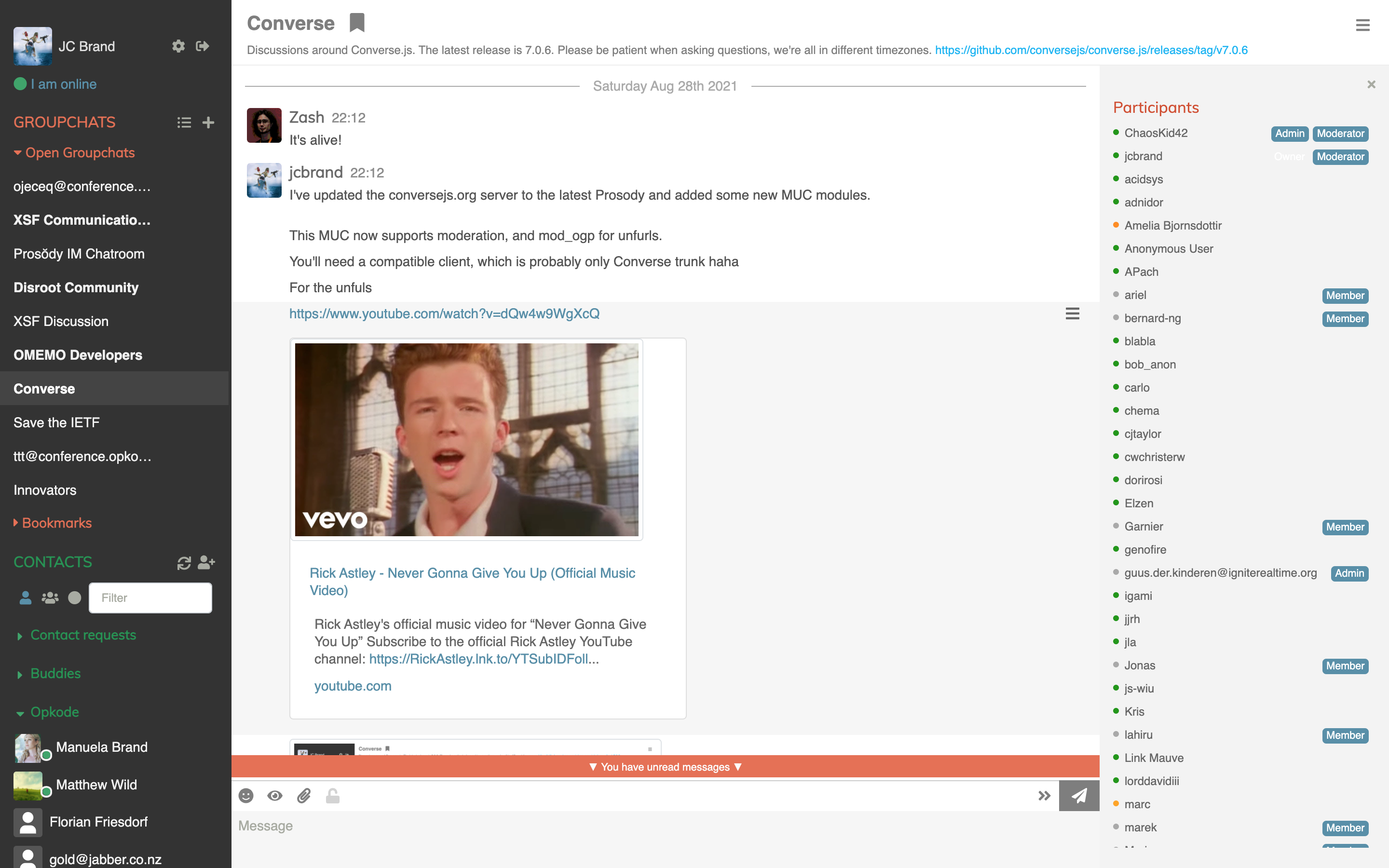 Dark mode
Embedded
In embedded mode, Converse can be embedded into an element in the DOM.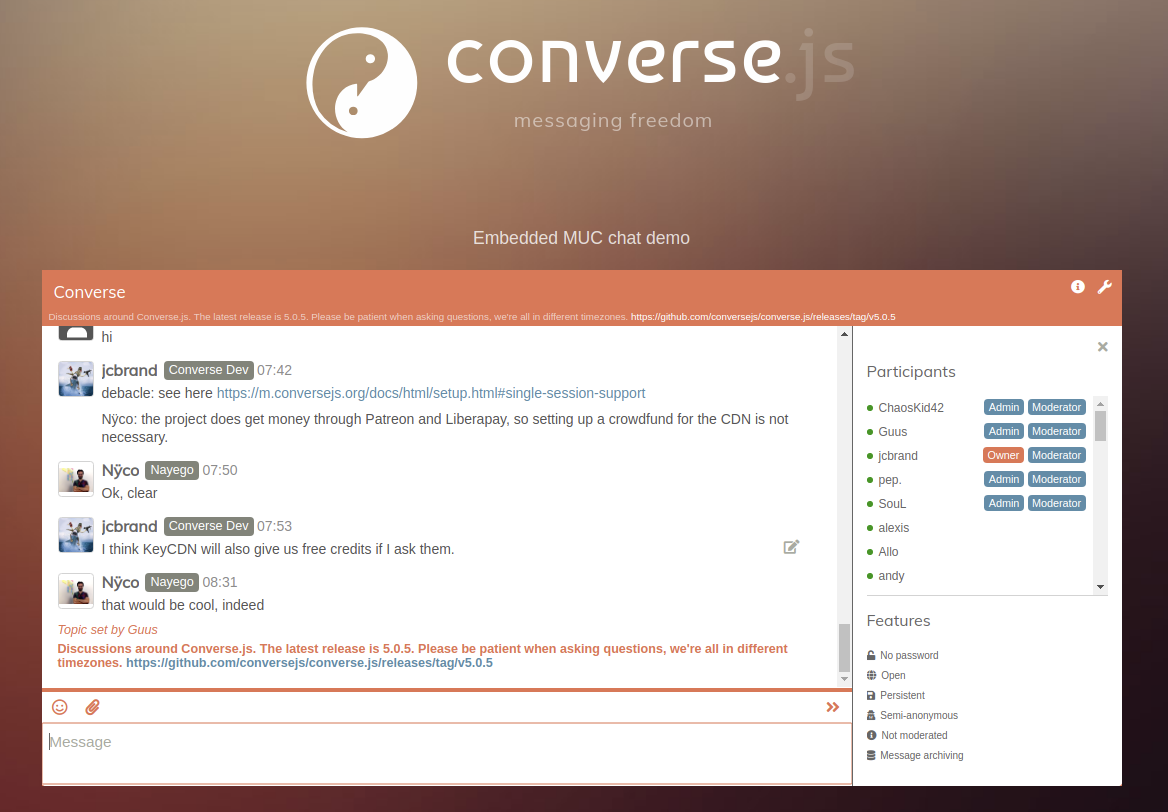 Features
Available as overlayed chat boxes or as a fullscreen application. See inverse.chat for the fullscreen version.
Custom status messages
Desktop notifications
A plugin architecture based on pluggable.js
Chat statuses (online, busy, away, offline)
Anonymous logins, see the anonymous login demo
URL Previews (requires server support, for example mod_ogp
Translated into over 30 languages
Supported XMPP Extensions
Integration into other servers and frameworks
XMPP servers
Other
Tests
We use behavior-driven tests written with jasmine.js.
Run make check to execute all the tests.
Licence
Converse.js is released under the Mozilla Public License (MPL).
Attribution
Emoji images are courtesy of Twemoji.
Support
Issues can be logged on the Github issue tracker.
Donations
A heartfelt thanks for everyone who has supported this project over the years. Many people have contributed testing, bugfixes, features and corrections.
We accept donations via Patreon and Liberapay.
Sponsors

*Note that all licence references and agreements mentioned in the Converse.js README section above are relevant to that project's source code only.