Programming language: PHP
Tags
:
Content Management Systems (CMS)
CouchCMS alternatives and similar software solutions
Based on the "Content Management Systems (CMS)" category.
Alternatively, view CouchCMS alternatives based on common mentions on social networks and blogs.
Your projects are multi-language. So is SonarQube analysis. Find Bugs, Vulnerabilities, Security Hotspots, and Code Smells so you can release quality code every time. Get started analyzing your projects today for free.
* Code Quality Rankings and insights are calculated and provided by Lumnify.
They vary from L1 to L5 with "L5" being the highest.
Do you think we are missing an alternative of CouchCMS or a related project?

Add another 'Content Management Systems (CMS)' Software solution
README

A simple open-source CMS for designers.
No knowledge of PHP required at all.
Take any HTML/CSS template and make it CMS enabled in minutes. Just drop in a few special XHTML tags into your code and watch your static web pages come to life!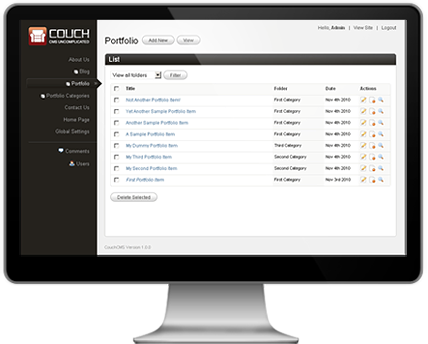 Salient Features
Editable Regions: Simply by surrounding areas in your HTML code by some special tags you can make them editable by your clients.
Cloned Pages: Create cloned pages out of any plain HTML/CSS template. Easily create blogs, portfolios, galleries, events etc. using these.
Comments: Allow visitors to leave their comments on any of the pages. You can moderate the comments before publishing them.
Listing of Cloned Pages: Easily show a listing of cloned pages based on several parameters like date, most commented or any of the editable regions defined by you.
SEO Friendly Links: Place your cloned pages within nestable virtual folders. The names of these folders appear in the URL creating super SEO friendly links.
Auto-validating Forms: Create self-validating forms with the greatest of ease. Integrate Google maps with forms using a simple tag.
Events Calendar: Rapidly create calendar events and list them any way you like. Integrate Google maps with the events.
Search: Define which pages will be included in the search. Format the result of searches any way you like.
RSS Feeds: Easily create customized RSS feeds from any/all section(s) of your website so readers can subscribe to your content.
Custom 404 / Site Offline Pages: Show your own custom page when a 404 error (page not found) occurs or when you have set your site to be offline.
Simple PayPal Integration: Easily sell digital goods while letting Couch handle PayPal IPN and all other back-end technicalities for you.
URL Cloaking: Offering a file for download but do not wish the users to know its real storage location? Use Couch's URL cloaking feature to handle this.
And the best part is…
None of the above listed features will require you to write even a single line of PHP. As a web-designer or front-end coder, we want you to concentrate on what you do best - design and create HTML/CSS code. Leave the rest to Couch.
Getting Started
To demonstrate the power and ease of Couch, we'll build a complete real world site from scratch using it. You can find the detailed tutorial along with the required files here. Once you are familiar with how CouchCMS works, you can also check out the advanced tutorial here which demonstrates many of the more advanced features.
License
Open Source License: CouchCMS is licensed under Common Public Attribution License 1.0. "Human-readable" version of CPAL would read like this:

This software is open source and can be freely used, modified, and distributed.
This software can be used for commercial purposes.
Attribution to the authorship of this software in the source code files cannot be waived under any circumstances.

Alternate Commercial License: Alternatively, CouchCMS may be used under a commercial license. Buying a commercial license permits you to:

Replace CouchCMS logo and copyright information from the back-end with your own, effectively 100% white-labeling the software.
One month of unlimited premium support.
Attribution to the authorship of this software in the source code files cannot be waived under any circumstances.
More details regarding Licensing and FAQ can be found here.
Documentation
You can view the documentation online here, or instead you can download a zip containing the information here. The CouchCMS forum is also a great place to learn new things and request assistance.

*Note that all licence references and agreements mentioned in the CouchCMS README section above are relevant to that project's source code only.