Description
Kresus has migrated to a Gitlab instance hosted by Framasoft on Framagit; the new repository is located here, issues should be opened there.
Programming language: TypeScript
License: MIT License
Tags
:
Money
Finance
Budgets
Kresus alternatives and similar software solutions
Based on the "Money, Budgeting and Management" category.
Alternatively, view Kresus alternatives based on common mentions on social networks and blogs.
Up your coding game and discover issues early. SonarLint is a free plugin that helps you find & fix bugs and security issues from the moment you start writing code. Install from your favorite IDE marketplace today.
* Code Quality Rankings and insights are calculated and provided by Lumnify.
They vary from L1 to L5 with "L5" being the highest.
Do you think we are missing an alternative of Kresus or a related project?

Add another 'Money, Budgeting and Management' Software solution
README
Kresus
Kresus is an open-source [libre](LICENSE) self-hosted personal finance manager. It allows you to safely track your banking history, check your overall balance and know exactly on what you are spending money with the use of tags!
It has started as a fork of cozy-pfm but is way different now.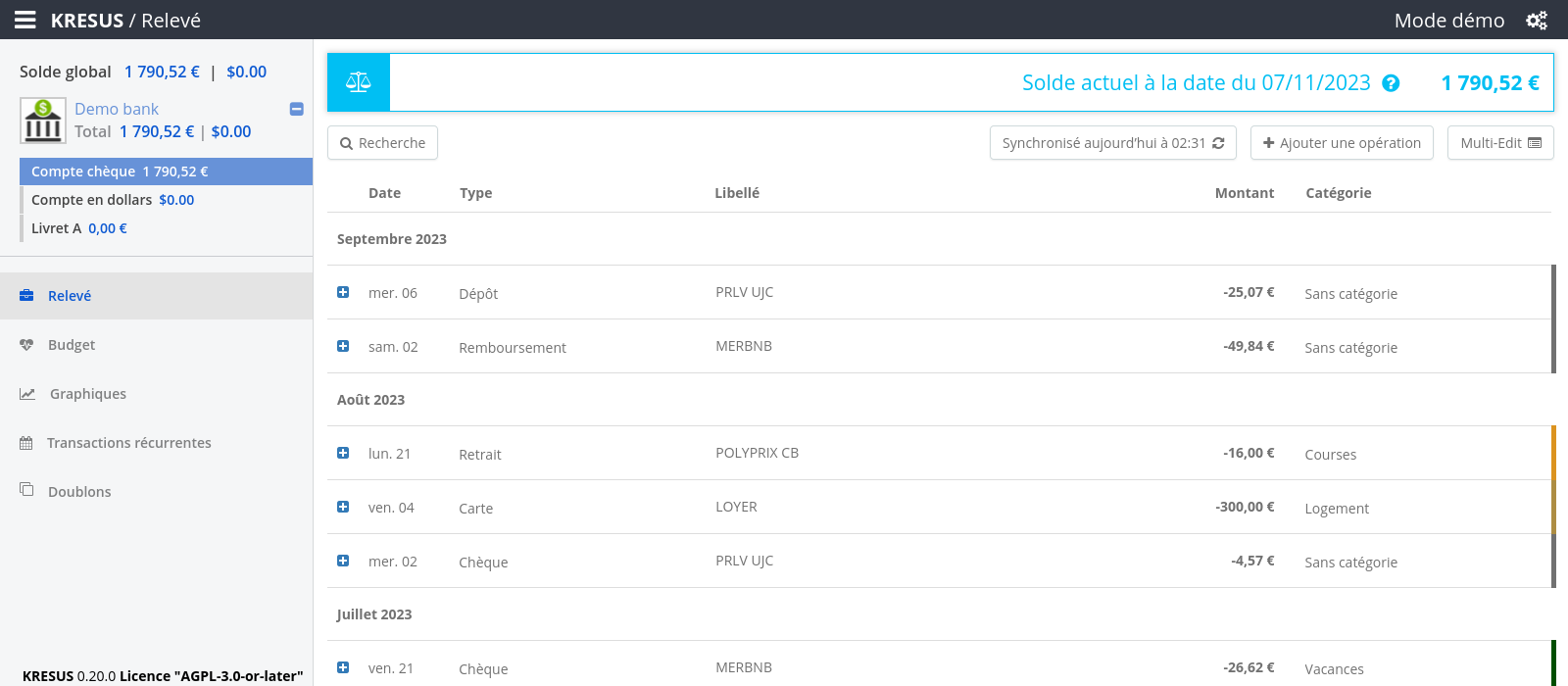 How to install Kresus
For up to date installation instructions, please refer to the kresus.org website.
Note that this website is opensource as well and you can contribute to improve installation instructions.
Contributing
See the [contributing file](CONTRIBUTING.md).
A big thank you to all of our contributors!
Code of conduct
Kresus project adopted a [code of conduct](CodeOfConduct.md) that everybody is expected to follow. Read it for further information about how to behave, how to report abuses, etc.
Donate
If you like the work we're doing, consider making a donation!
Thanks
We use [BrowserStack](./support/Browserstack-logo.png) to test Kresus on different browsers and mobile devices.

*Note that all licence references and agreements mentioned in the Kresus README section above are relevant to that project's source code only.