Programming language: Go
License: GNU Affero General Public License v3.0
Tags
:
Content Management Systems (CMS)
Typo3
WriteFreely alternatives and similar software solutions
Based on the "TYPO3" category.
Alternatively, view WriteFreely alternatives based on common mentions on social networks and blogs.
The friendly CMS. Free and open source with an amazing community.

Recipes is a Django application to manage, tag and search recipes using either built in models or external storage providers hosting PDF's, Images or other files.

Build single-codebase applications for Windows, Web, Linux, macOS, iOS and Android with open-source Uno Platform. Fluent and Material design included in-the-box. Try now via 3 min tutorial.

WonderCMS is the smallest flat file CMS since 2008.
* Code Quality Rankings and insights are calculated and provided by Lumnify.
They vary from L1 to L5 with "L5" being the highest. Visit our partner's website for more details.
Do you think we are missing an alternative of WriteFreely or a related project?

Add another 'TYPO3' Software solution
README
WriteFreely is free and open source software for building a writing space on the web — whether a publication, internal blog, or writing community in the fediverse.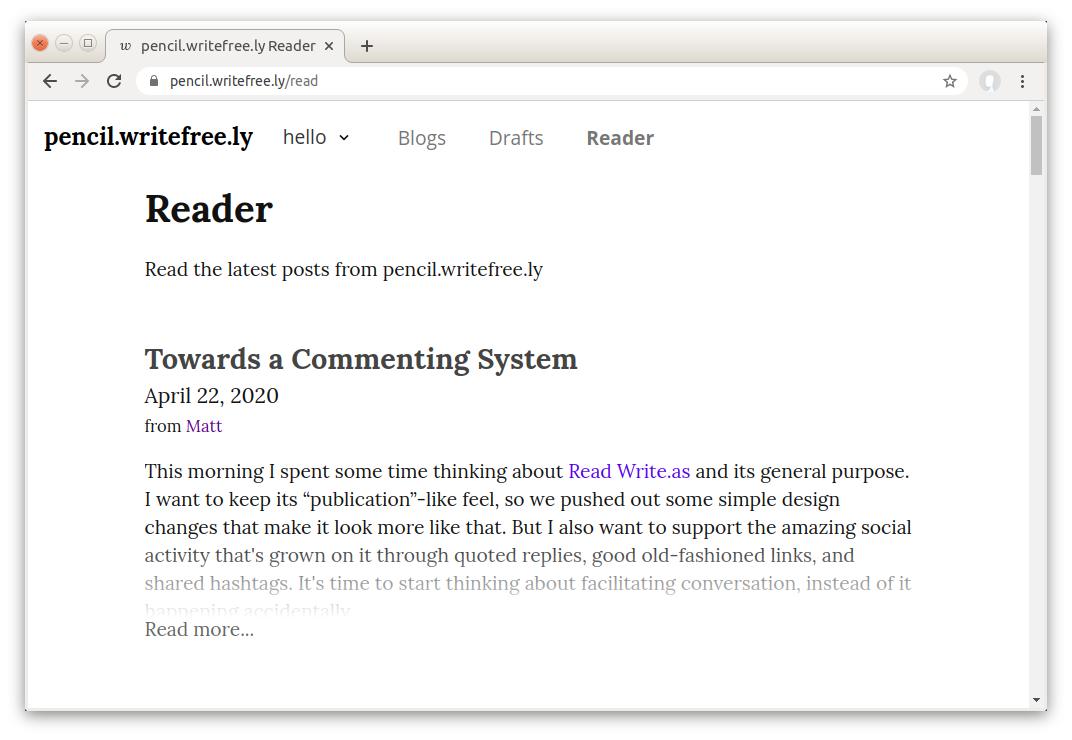 Features
Made for writing
Built on a plain, auto-saving editor, WriteFreely gives you a distraction-free writing environment. Once published, your words are front and center, and easy to read.
A connected community
Start writing together, publicly or privately. Connect with other communities, whether running WriteFreely, Plume, or other ActivityPub-powered software. And bring members on board from your existing platforms, thanks to our OAuth 2.0 support.
Intuitive organization
Categorize articles with hashtags, and create static pages from normal posts by pinning them to your blog. Create draft posts and publish to multiple blogs from one account.
International
Blog elements are localized in 20+ languages, and WriteFreely includes first-class support for non-Latin and right-to-left (RTL) script languages.
Private by default
WriteFreely collects minimal data, and never publicizes more than a writer consents to. Writers can seamlessly create multiple blogs from a single account for different pen names or purposes without publicly revealing their association.
The quickest way to deploy WriteFreely is with Write.as, a hosted service from the team behind WriteFreely. You'll get fully-managed installation, backup, upgrades, and maintenance — and directly fund our free software work ❤️
Quick start
WriteFreely deploys as a static binary on any platform and architecture that Go supports. Just use our built-in SQLite support, or add a MySQL database, and you'll be up and running!
For common platforms, start with our pre-built binaries and head over to our installation guide to get started.
Packages
You can also find WriteFreely in these package repositories, thanks to our wonderful community!
Documentation
Read our full documentation on WriteFreely.org —️ and help us improve by contributing to the writefreely/documentation repo.
Development
Start hacking on WriteFreely with our developer setup guide. For Docker support, see our Docker guide.
Contributing
We gladly welcome contributions to WriteFreely, whether in the form of code, bug reports, feature requests, translations, or documentation improvements.
Before contributing anything, please read our Contributing Guide. It describes the correct channels for submitting contributions and any potential requirements.
License
Copyright © 2018-2020 A Bunch Tell LLC and contributing authors. Licensed under the AGPL.

*Note that all licence references and agreements mentioned in the WriteFreely README section above are relevant to that project's source code only.